Home
 REGISTRATION OPENS Friday November 13, 2020
Take your walk November 13, 2020 through December 31, 2020.
This 2020 Fallbrook Virtual Turkey Jingle Trot  is a fun family six-week virtual event to join with the community to raise money for the Fallbrook Village Rotary Club Foundation.  The Annual Thanksgiving Turkey Trot has been reimagined as the "choose your own place and pace"  socially-distanced walk anytime during the holiday season.  Our goal is to raise funds for the Fallbrook Land Conservancy, Fallbrook Animal Sanctuary and the Fallbrook Community(s).
When you join the 2020 Fallbrook Virtual Turkey Jingle Trot, you will be notified when to pick up this year's t-shirt plus one Grand Tradition Garden Ticket (Pick-up hours are limited to specific days and times). You can use the Grand Tradition Garden tickets according to the information listed on – https://www.grandtradition.com/gardens/.  T-shirts and tickets available while supplies last!
Note: Sorry, NO pets on the Grand Tradition property
More Info: Please send an email to fallbrookvillagerotary@yahoo.com.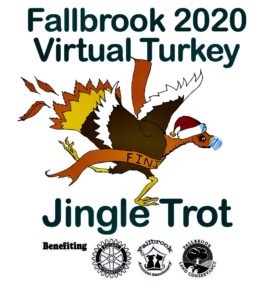 FALLBROOK VILLAGE ROTARY CLUB  has donated monies to the community (s) and international since 1984.
Rotary is a leadership organization of local business, professional, and civic leaders. Members of Rotary meet regularly, get to know each other, form friendships and through that, we are able to get things done in our community.
Visit the Fallbrook Village Rotary Club
Join us, we meet Tuesdays at 12:10pm via Zoom