RAIN OR SHINE
DAY OF EVENT REGISTRATION OPENS AT 7AM
@La Paloma Elementary School
Thursday, November 23, 2023
2023 Annual Fallbrook Thanksgiving Day Turkey Trot  is a fun family Thanksgiving morning to come together with the community to raise money for the Fallbrook Village Rotary Club Foundation while feeling good and creating memories of a lifetime.  Our goal is to raise funds for the Fallbrook Land Conservancy, Fallbrook Animal Sanctuary and the Fallbrook Community(s).
More information: Call 760-731-0529 leave a message and we will call you back.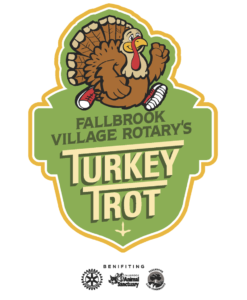 FALLBROOK VILLAGE ROTARY CLUB  has donated monies to the community (s) and international since 1984.
Rotary is a leadership organization of local business, professional, and civic leaders.
Members of Rotary meet regularly, get to know each other, form friendships and through that, we are able to get things done in our community.
Fallbrook Village Rotary Club
Join us, we meet Tuesdays at 12:10pm
127 Social House
S. Main Ave
Fallbrook, CA, USA